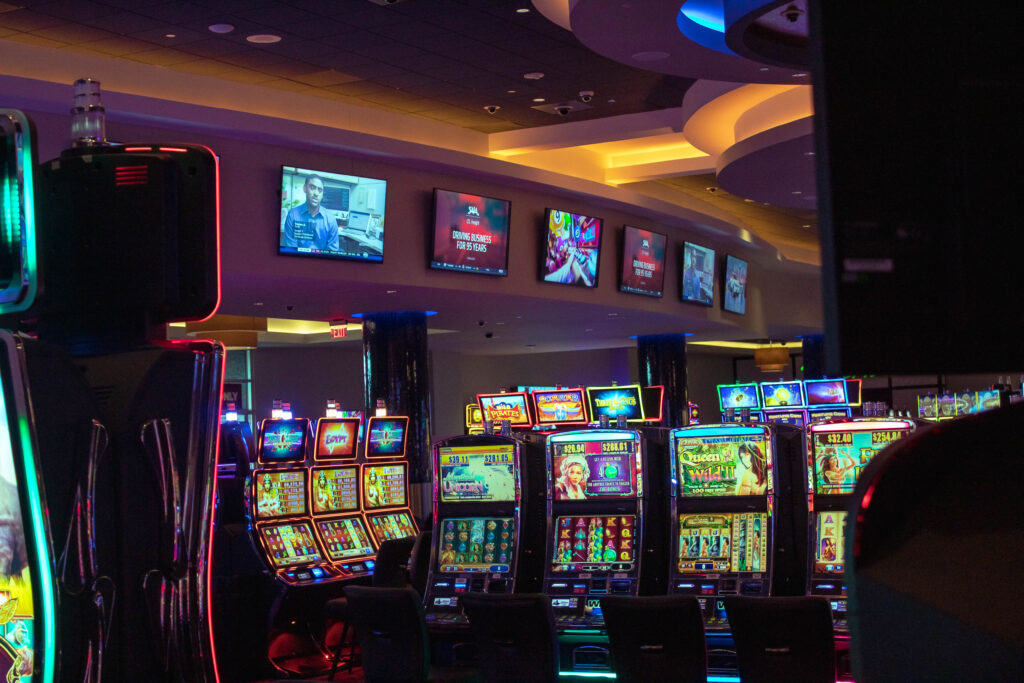 The Ojibwa Casinos, premiere casinos in the Upper Peninsula of Michigan, recently upgraded their two locations in Marquette and Baraga.
The Marquette location completely expanded its original building with a brand new game floor with blackjack, other table games, and over 500 slot machines. Besides the gaming floor, the new space also includes two restaurants, a bar & lounge, and a tour-ready event center.
The casinos are owned and operated by the Keweenaw Bay Indian Community. With the two locations nearly 70 miles part, KBIC staff reached out to Arrow AV Group to help design and install a robust yet simple to use video distribution system for digital signage, IPTV, and presentations throughout.
Challenges
1 – Displays needed to be eye catching, operate 24/7, come in every possible size, and offer flexibility with inputs and orientation.
2 – Marketing materials are regularly updated for new events and specials at both locations. With the size of the buildings, new paper signage every week would be costly and take up valuable time for the marketing team. Staff wanted to utilize the locations people were looking already: the televisions.
3 – Management wanted complete freedom to send any source to any display without having to be locked to a computer or touch screen in the back office.
4 – The event center would see a range of acts on and off the stage; from sports parties to comedians and touring musicians to corporate trainings and public speakers. Capable of seating 1200 (400 with social distancing), guest experience was first priority. Guests needed to be wowed and experience a great image and sound no matter where they sat.
Daunting scale challenges? Our team is standing by to help evaluate your space's needs and design a system for any size space. Send us an email to get started.
Solutions
1 – For the displays, QB-R series from Samsung fit the bill perfectly. Over 70 screens of varying sizes were installed across both locations. The QB-R series is a commercial display with 4K UHD picture quality with up to a billion colors for crystal clear, lifelike color and exceptional detail for an optimal guest experience for live TV and digital ads.
With an elegant, slim design and a clean cable management solution, the thin bezel displays helped meet ADA guidelines for hallways while maintaining a professional appearance. Two USB ports meant the rarely changing restaurant menus could be run off a flash drive instead of using up a valuable PC source and extra encoder.
2 – Of all the signage software's available on the market, the Ojibwa marketing staff chose Four Wind Interactive out of Las Vegas. With central management, a cloud-based creation studio, and the ability to ingest live TV, the marketing team can now easily update marketing materials at both locations for every guest to see without missing a minute of their show. Our team at Arrow AV Group was happy to partner with FWI to execute this project.
3 – For the video distribution system, the Crestron Digital Media NVX® series offered the greatest flexibility. With Crestron's proprietary AV-over-IP protocol, the NVX system allows for ultra-low latency, 4K video transmission over a network. Utilizing the casino's well-maintained LAN, NVX E30s were used to encode the live TV and signage player sources throughout the facilities.
To get video off the network, Arrow AV Group technicians installed NVX D30s behind every display in the building. Linked with a Crestron control processor and custom designed user interface with floor map, management is able to send any source to any display while walking the floor with a few taps on a mobile device like a phone or tablet. For the 110″ video wall, four Crestron NVX 350 were utilized for their extra video processing capabilities used to replicate one image on all four screens, as well as additional configurations and layouts.
4 – For the professional video system in the event center, a 10′ by 16′ DaLite Wireline Advantage projection screen was installed on either side of the event center. With nearly 30′ high ceilings, the screen descends into place via two cables instead of standard black vinyl. This gives the illusion of a floating screen while in use and, with the push of a button, the screen can completely disappear for storage.
For projection, a pair of Panasonic PT-RZ920 were pole mounted from the ceiling. The 10,000 lumen, single DLP projector paired with the positive gain of the projection screens allowed for a vibrant image even with some ambient light in the room.
In the AV equipment rack, a Crestron HD-RX-4K-510-C-E-SW4 allowed simple switching between the NVX D30 with the live TV/signage and the four HDMI input plates throughout the venue. All controlled via a Crestron touch panel at the front of house booth and integrated with the third-party audio system. This allowed for flexibility when setting up the space for both large and small events.
---
Overall, the casino staff are thrilled with the new system Arrow AV Group provided. "I have watched to see guest's involvement with the screens," says James Orr, the marketing director for the casinos. "The screens are the first thing they look at when they enter the casino, particularly our first time guests."
Orr says a recent guest commented on "how nice, crisp, and vibrant the video screens were and how great the content looked."
Ready to simplify? Our team is standing by to help evaluate your space's needs and design a system that just works. Send us an email to get started.
---