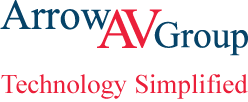 INTEGRITY. RESPECT. ETHICS. ACCOUNTABILITY. LAW. FAIRNESS.
Arrow AV Group is a family owned company based in Appleton, WI, proudly serving customers throughout the USA. As a family owned company, we believe family is important.

Unlike other companies who sell pre-packaged systems, we believe it is better to partner with our customers and clients, helping them determine their needs, then share that information with our engineering team who work with them to create a unique system that will enable them to effectively communicate with their clients and customers in a way that serves everyone best.
---
We believe quality over quantity.
Every system is checked at engineering, staging and commissioning to ensure compliance with AV9000 standards by our Certified Quality Technicians and Certified Quality Designers, all of whom have extensive industry experience. We've been a member of the AQAV – the Association for Quality in Audio Visual – since 2014. We're recognized as an industry leader in Quality – several of our employees have helped write the standards and certification exams.
We believe in safety.
We have the right people, tools, equipment, and training. In addition to the OSHA 10, our staff receives ongoing training to keep them – and you – safe.
We believe in doing it right.
We follow the AVIXA, ESTA, NFPA standards, and adhere to local, state, and national safety and construction codes.
We believe in sustainability.
We follow the philosophy of reduce, reuse, recycle. If you have existing equipment that will continue to work well, we can incorporate that into the system. We select energy efficient components and design low power states for systems to reduce stand-by voltage requirements.
We believe in the long term.
We have customers who have been with us since we began – and some employees, too!
We believe in education.
– both for our employees and our clients. New employees go through a lengthy training process including OSHA, AVIXA, and our internal educational classes. Our staff attends INFOCOMM each summer to keep up with the latest developments in the industry. We also have attended numerous other training classes offered by manufacturers and industry experts.
Our clients can receive education on their system, or select from a variety of other educational offerings, including our popular Audio and Lighting Excellence Seminars
We believe in industry certifications.
As of July 2019, over 95% of our sales, design and install staff have the AVIXA CTS, CTS-D, or CTS-I certification and 100% of our quality assurance staff has CQT or CQD.
We believe the world is a small place and we're all interconnected.
We know you have a choice in AV providers. We know we are one of the very best so when you choose us, you can be assured of a great experience.
---
At Arrow AV Group we don't sell you a system, we partner with you on your project. This philosophy allows you to work directly with the design and technical staff to get the system you desire.
We believe that the practical experience gained from working with technology in real-world installations enhances our design skills significantly. From educational facilities to corporate boardrooms, training facilities and houses of worship to data centers and videoconferencing facilities, our engineering and technical staff has the extensive experience required to successfully design, manage, and deploy a project. Arrow AV Group has distinguished itself in the marketplace by providing high levels of service in the areas of consultation, design, engineering, installation, training and ongoing service.