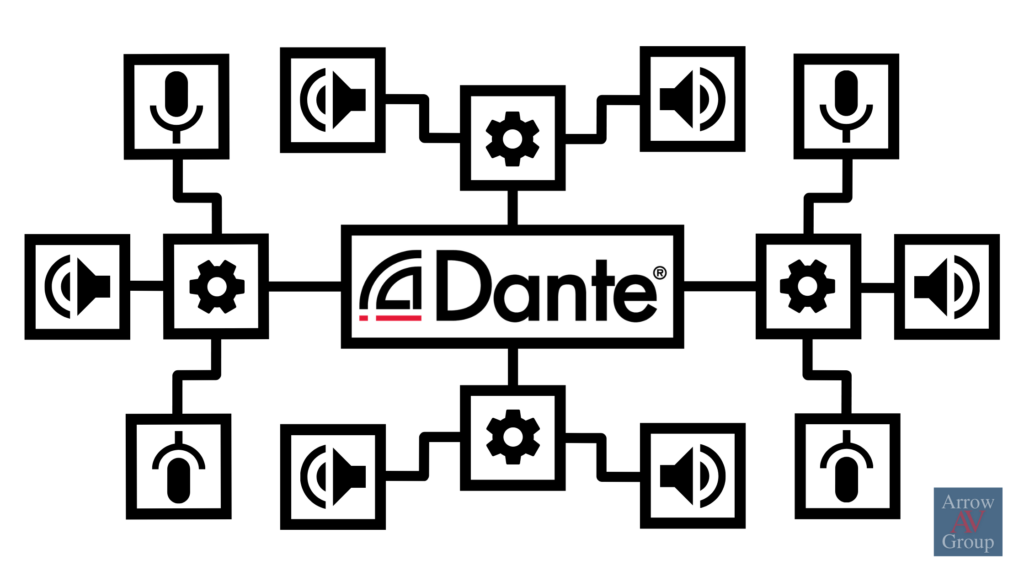 You've seen it commented on online forums and social media groups. Venue operators rave about the flexibility it brings to any event. Houses of worship and churches used it to pivot live worship for live streaming. Corporate IT teams love how familiar it looks when integrating. What is it?
Dante by Audinate! The networked real time audio standard has become a staple for many. But what makes Dante so great?
Here are six reasons why you should consider Dante when upgrading your audio infrastructure
1 – Low Bandwidth, High Savings
With Dante, you can send 64 channels of audio down one cable and through 1 GB switches with utlra low latency. Less bandwidth and less cabling means more savings for greater results.
2 – IP Flexibility
Dante uses familiar IT protocols on a standalone or merged network. Any network port in your building can become a microphone for a remote recording or a speaker when high attendance demands new overflow space in minutes.
3 – Plug & Play
When you plug a Dante device into a configured network, it is automatically discovered. No more setting and configuring IP addresses every time you want to add a device.
4 – #1 Supported Standard by Manufacturers
Dante is supported by almost 300 manufacturers and the list continues to grow. I/O endpoints, mixers, controllers, and thousands of other devices by different manufacturers, all able to work together.
5 – Connect Any Computer
With Dante Virtual Soundcard and Dante Via software, you can connect a computer to the network to send and receive any audio signal. Turn unused spaces into a broadcast booth to live stream or host webinars!
6 – Free Online Training
No need to fly! Learn the basics of the Dante interface from the developers themselves. The monthly webinars help keep you updated on the latest developments as well.
---
Ready to upgrade? Our team is ready to help evaluate your needs to design and implement a Dante network for your business, house of worship, venue, or other commercial space. Send us an email to get started.